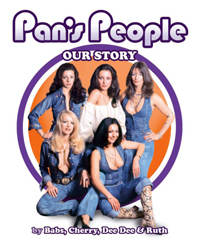 Between 1968 and 1976 the undisputed highlight of Top of the Pops was its nubile dance troupe Pan's People. In the era before music videos this legendary group and their choreographer Flick Colby filled in for absent bands. In the process they become better remembered than many of the records they danced to.
Now, to celebrate the 50th anniversary of Top of the Pops, Babs, Cherry, Dee Dee and Ruth – the surviving members of the classic line-up – have reunited to tell their remarkable story.
This is a compelling, surprising and ultimately moving memoir from eyewitnesses to the golden age of pop music.

Paperback 232 pages
ISBN 9780957648135
Product Dimensions 21.9 x 18 cm